Error processing SSI file
Redecorate your vehicle and make it warm and cuddly at the same time. Horizontal pleated center panel with 1/4" foam padding for extra comfort. Polyester stretch back. Buy matching headrest covers, floor mats and steering wheel cover to complete the ensemble. Universal or custom seat configurations to fit just about any front or rear seat in Cars, Trucks, SUV's and Vans.
Check out the picture in our Photo Album Page 2 of Gold Leopard front and rear seat covers and floor mats in a older Toyota station wagon or Black and White Cow seat covers in a 2002 Ford F150 pickup.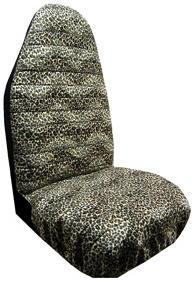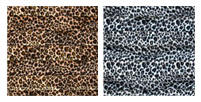 Cheetah Print available
in Tan or Gray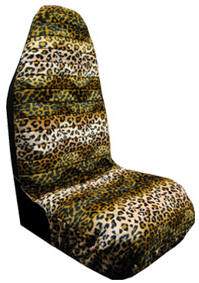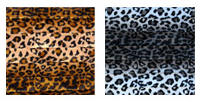 Leopard Print is available
in Gold or Gray



or Pink and Purple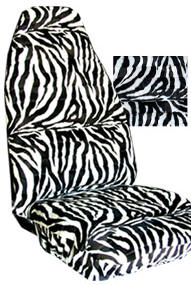 Zebra Print available in White/Black, Tan/Black, Red/Black
and Pink/Black




Important statement about our Privacy Policy. At checkout you will be required to enter a phone number. The purpose is two fold. 1. UPS and FedEx request a phone number on the shipping documents so they can contact someone if there is a problem delivering the package. 2. At times we need additional information about the vehicle to get the correct item for it. We do not sell or use the phone number for marketing purposes.

Air Bag Modification Option for vehicles 1999 and newer
with Side Impact Air Bags built into the backrest of the front seats. *Hawaii, Alaska, Post Office Boxes and International will be higher
please review Shipping Policy for details.
TO ORDER CUSTOM FIT ANIMAL PRINT SEAT COVERS
CALL TOLL FREE 1-877-732-8268
Price List, Sales Tax Free
Universal bucket seat covers: $49 a pair
Universal rear seat: $69

Custom buckets or benches: $99
Custom buckets or benches with integrated seat belts: $119
20 Section of 40/20/40: $60 for Top and Bottom
Custom rear seat: $99

Steering wheel cover: $10
Headrest covers: $30 pr.
Armrest Covers: $15 each
Shoulder Belt Covers: $12 pr.
Side impact air bag modification: $20 pr.
Velcro headrest opening modification: $20 pr
*Plus freight and handling of $17 on orders less than $100 shipped within the Continental U.S.