Seat Cover Construction
Click on any of the pictures to see them in more detail.
To return to the page click the < Back button on your
internet browser tool bar.
Stitching: 6" Horizontal pleats
Finished Edges & Reinforced Seams
Every custom seat cover we manufacture is very durable and will last for years thanks to our team's fine craftsmanship. These seat covers have finished edges, tailored corners, color-matched thread, double stitching, and reinforced critical seams. They also resist mildew and sun-fade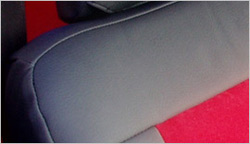 Unique Foam Backing
These seat covers only use the highest quality foam! Our seat covers are backed with thick, fire-retardant foam for optimal cushioning and comfort. No other manufacturer uses a foam as thick or durable as we do.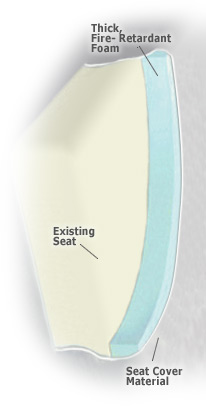 Easily Washable
Our custom seat covers are hand-wash only, cold water, using mild detergent. Drip-dry only. No bleach or bleach products.